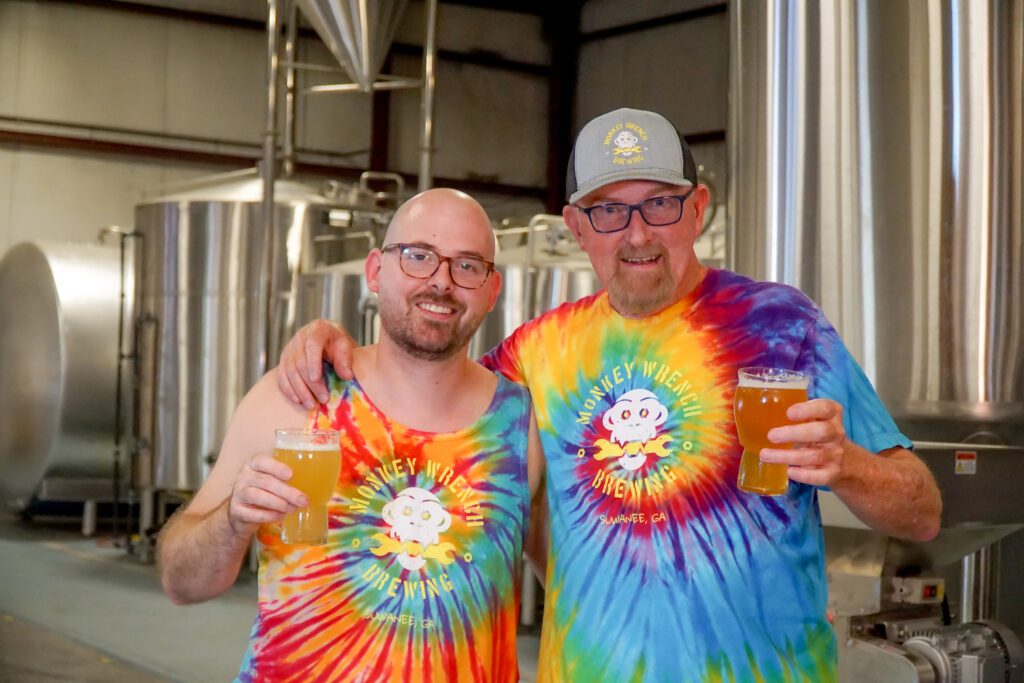 FOR IMMEDIATE RELEASE:
Monkey Wrench Brewing Unveils Ambitious Expansion: Crafting Bigger Brews and Distilling Brighter Spirits
Suwanee, Georgia – August 22, 2023 – Monkey Wrench Brewing, nestled in the heart of Gwinnett County, is setting a new standard in the craft beverage industry. Founded by Wayne and his son, Brock, the journey that began as a father's home brewing passion with the New London Brew Club and won them many awards, has blossomed into a father/son professional pursuit of large-scale brewing and innovative distilling.
With unwavering enthusiasm, Monkey Wrench Brewing has proudly unveiled a monumental expansion, poised to redefine the landscape of craft beer and spirits in the Atlanta and Gwinnett regions. Formerly operating on a modest three-barrel (93-gallon) system, the brewery has made a remarkable leap to a substantial 20-barrel (630-gallon) three-vessel brewhouse, complemented by a fleet of 12 fermentation tanks. This strategic move translates to an increased presence of Monkey Wrench beer gracing the tables of local bars and restaurants.
However, this transformation transcends mere quantity. Monkey Wrench Brewing is dedicated to offering a diverse array of experimental brews, plus classics such as: NEIPA's, West Coast IPA's, Sours, Stouts, Porters, and Belgium Ales. And for aficionados of lighter lagers, Monkey Wrench is gearing up to introduce this refreshing trend to their lineup.
In parallel, Monkey Wrench's evolution extends to the realm of spirits. Outgrowing their modest 20-gallon tank, they now proudly house a substantial 500-gallon copper pot still with a continuous eight-plate 12" column. This impressive setup propels their venture into crafting a range of spirits, from rum and gin to vodka and whiskey.
Both the brewery and distillery have been meticulously installed by MW Control Solutions (www.mwcontrol.com), a globally recognized automation expert. Renowned for their precision and consistency, MW Control Solutions boasts a client roster that includes esteemed brands such as Jameson and Bushmills in Ireland. Monkey Wrench Brewing is excited to partner with them as they expand their horizons.
To accommodate their exponential growth, Monkey Wrench Brewing and Distillery has erected a spacious 24 by 24-foot walk-in cooler, purpose-built to house their burgeoning collection of kegs and cans. Set against this backdrop is a captivating sight – a 26-foot tiki bar radiating the inviting aura of the Hawaiian Islands. Beyond serving their exceptional brews and spirits, this tiki bar is poised to become a focal point for special events and signature Monkey Wrench cocktails.
Speaking of cocktails, enthusiasts of the slushie trend will find themselves irresistibly drawn to Monkey Wrench's offering. Their diverse range includes flavors like apricot, coconut, and mango, expertly blended with their in-house crafted rum and vodka. While their slushies are already generating buzz, Wayne and Brock are thrilled to introduce a range of craft cocktails to the growing Monkey Wrench family.
In essence, Monkey Wrench Brewing and Distillery is not simply expanding; it is undergoing a profound evolution, ensuring that each patron experiences their boundless passion, unwavering commitment, and relentless innovation. Here's to tasty brews, exciting cocktails, and fun times!
For more information, please visit www.monkeywrenchbrewing.com or follow us on social media @MonkeyWrenchBrewing.
Media Contact:
Wayne Baxter
Monkey Wrench Brewing & Distillery
Email: wayne@monkeywrenchbrewing.com
(End of Press Release)