$5-Pint Special to Celebrate MWB's 3rd Annual 5k!
Celebrate our 3rd Annual 5K!
The 3rd Annual Monkey Wrench Brewing 5K will be held on April 8th, 2023 starting at 7:45 am. For more information, click here.
To begin the celebration commemorating Monkey Wrench Brewing's 3rd Annual 5K, we are having $5/pint specials on Thursday, April 6th from 5-7pm!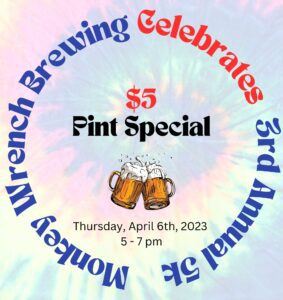 Proceeds from the 5K will support Annandale Village:
Annandale Village, located in Suwanee, is the only non-profit residential community in the entire southeastern United States that serves adults with developmental disabilities and acquired brain injuries at all levels of care throughout an individual's lifetime. Currently, they have almost 150 full-time residents and have been serving the community for over 50 years.